Towering over Osaka's cityscape at an impressive 300 meters, Abeno Harukas is the tallest building in Japan. This 62-story skyscraper, opened recently in 2014, is a multifunctional center that has become the cornerstone of urbanization in Osaka.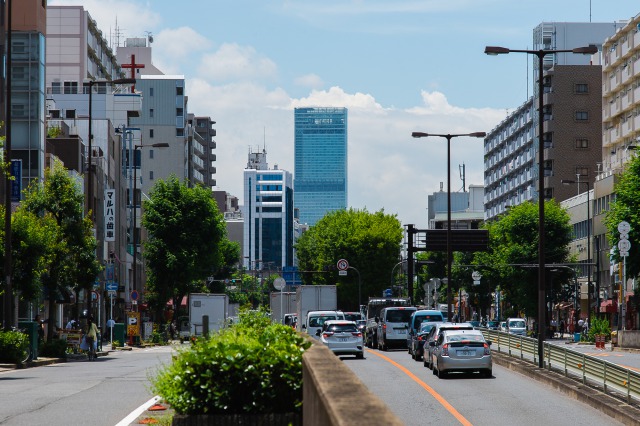 Situated above the Kintetsu Osaka Abenobashi Station, Abeno Harukas houses multiple entities including a world class hotel, art museum, observation deck, department store, and more. This immense multifaceted structure has just about everything one could wish for.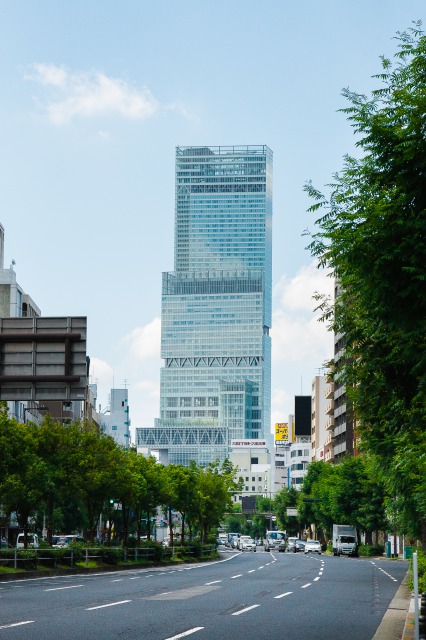 One of the main attractions is the observation deck, dubbed "Harukas 300," which is accessible from the elevators on the 16th floor. Located on the top three floors of the building, you can enjoy a breathtaking panoramic view of the city all while enjoying souvenir shopping or a relaxing lunch at the café with wooden deck.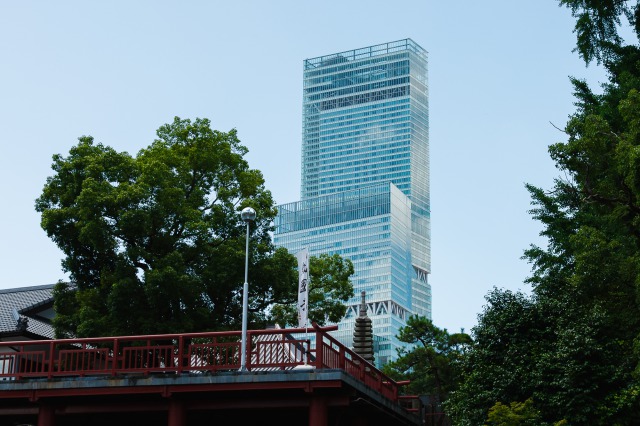 Abeno Harukas Department Store, the largest department store in Japan, is composed of two buildings – a tower and wing. The tower contains everything from famous international brands to interior design and furnishing to dozens of restaurants. With its modernistic and aesthetically pleasing design, it's easy to be enthralled just by walking through.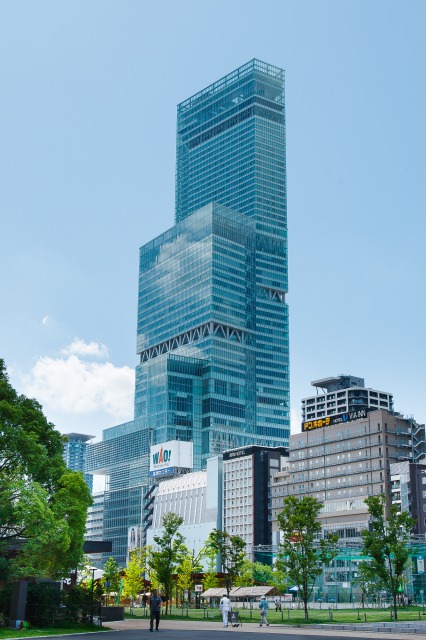 Over at the wing section, brands like "Solaha" are aimed towards a young generation of clients. You can also find sports and travel goods in addition to a kids' bookstore.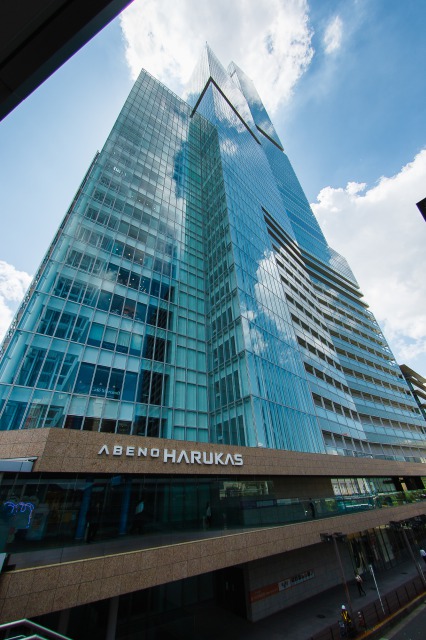 Located on the 16th floor, the Abeno Harukas Art Museum is a constantly changing collection of mainly western and Buddhist art. After experiencing the exhibits, you can relax at a garden terrace situated on the same floor. While not as powerful as the views from the observation deck, you can still enjoy a pleasant and relaxing view of central Osaka.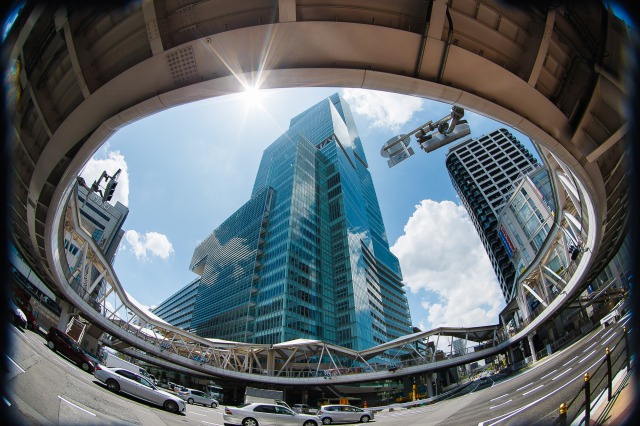 Abeno Harukas is also extremely tourist-friendly. The Foreign Customer's Salon on the 3.5th floor of the wing building offers several supporting services in both English and Chinese. This includes baggage storage, discount coupons, sightseeing information, and currency exchange.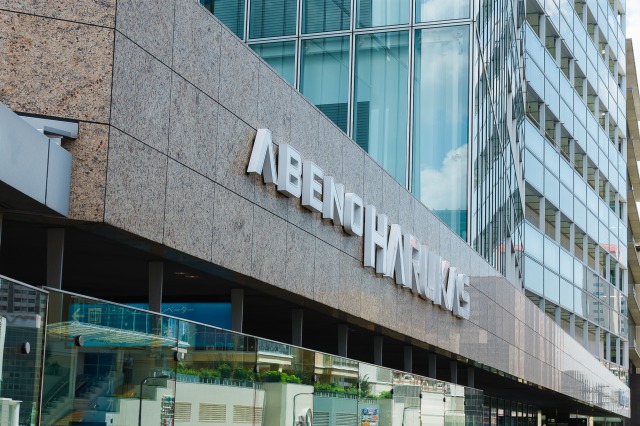 Whether you stay at the luxurious Osaka Marriot Miyako Hotel or are simply passing through for a quick visit, Abenos Harukas and its countless amenities are guaranteed to delight visitors.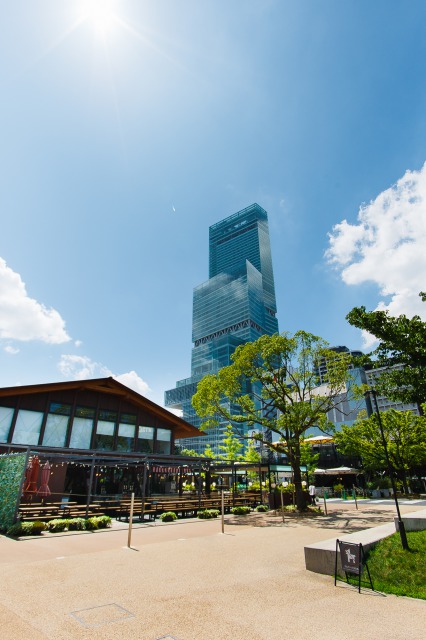 After your visit to the Abenos Harukas building, why not take a stroll through the Abenos neighborhood it's located in? For shopaholics who just couldn't get enough, you can visit the newly renovated Abeno Kintetsu Department Store inside Tennoji Station or take a quick visit to Abeno Market Park Q's Mall which is Osaka's largest shopping mall.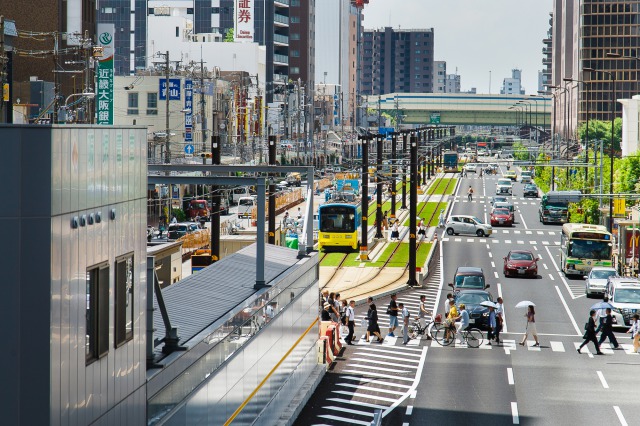 For those inclined to a more tranquil ending to their day after the glamour of Abeno Harukas, there lies the nearby Tennoji Zoo, Osaka Municipal Museum of Fine Art, and Isshinji Temple. You're sure to be surprised at the temple's striking modern gate design, much-removed from that of any other temple you've come across! Finally, another unique twist to the neighborhood is the inclusion of the Hankai Tramway. Nowadays a unique and rare mode of transportation, you can enjoy a relaxing ride as you soak in the rich scenery of Osaka's neighborhoods.
Observation Deck:
Hours: 9:00-22:00
Admission Fee: Adults – 1500 JPY
Ages 12-17 – 1200 JPY
Ages 6-11 – 700 JPY
Ages 4-5 – 500 JPY
Abeno Harukas Art Museum:
Hours: 10:00-20:00 (closes at 18:00 on weekends and public holidays; entry permitted up to 30 minutes before closing)
Admission Fee: Varies by exhibit
Department Store:
Hours: 10:00-20:00 (restaurants open until 23:00)
Directions: Directly atop Kintetsu Osaka-Abenobashi Station, just across from JR Tennoji Station.
15 minutes, 190 yen from JR Osaka Station. Alternatively, 15 minutes, 280 yen from Umeda Station on the Midosuji Subway Line. Get off at Tennoji Station.
5 minutes, 160 yen from JR Namba Station. Alternatively, 5 minutes, 230 yen from Namba Station on the Midosuji Subway Line. Get off at Tennoji Station.
Website: https://www.abenoharukas-300.jp/en/