IROHA Lounge on the 3rd floor has been gaining attention among tourists from overseas because of their diverse Japanese culture-related entertainment services! It makes foreign guests stay all the more delightful and memorable.
https://plazaosaka.com/iroha-en
And now, their special new service has just started! Please take a look at their extensive lineup in the photo. Japanese sake, shochu, whisky, wine, plum liquor, spirits, snacks, and more! Pick your favorites from the self-serve bar counter. Sit back and loosen up for a while with delicious drinks in a relaxing ambience. It would also be a great opportunity to enjoy a conversation with other guests around the world, sharing helpful information about your trips with each other. Their English-speaking staff members are ready to welcome you!
*In order to use this service, a special ticket is needed.
(The ticket is provided beforehand in accordance with your accommodation package.)
*The service is available from 9pm -10pm
*Please refrain from bringing your own food and beverages inside or taking food and beverages out of the lounge.
*For more details including the terms and conditions, feel free to ask their staff members anytime.
We hope you enjoy their new service at IROHA Lounge!
Store infomation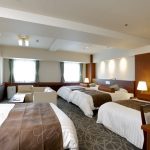 The Hotel Plaza Osaka is a quick 3-minute drive and a 5-minute walk from Juso Station (Hankyu Line), the next station of Osaka Station (JR) / Umeda Station (Hankyu Line).
Our location is quite favorable as there are direct trains to Osaka Umeda Station, Kyoto Kawaramachi Station, and Kobe Sannomiya Station from Juso Station.
There are also many convenient facilities around Juso Station, such as drug stores and shopping malls.
The Hotel Plaza Osaka is one of Osaka's top-class hotels that holds 653 rooms. On the 19th floor, you'll find a teppanyaki restaurant named "Ousaka". There you can enjoy authentic Kobe beef while taking in the view of Osaka's immaculate nightscape. We also have 6 additional restaurants and bars, a gym (with a pool) managed by GOLD'S GYM, a golf driving range (Clover Village Golf Club), and more.

For foreign guests, a lounge where you can experience Japanese culture named "IROHA Lounge" is provided. Here, guests can try on Kimonos and can even wear them out and return them later that afternoon. The renovated hotel has various types of rooms available for your convenience. There are rooms for visitors staying alone and for families (46㎡ rooms). Every room has Wi-Fi available and a smartphone service called "handy", equipped with unlimited data usage. We encourage you to use this service to make domestic and international calls.

We, with a sincere heart, would like to offer all our guests exquisite hospitality and a wondrous experience beyond expectation. We hope you enjoy your stay with us.

Facebook: https://www.facebook.com/Plaza-Osaka-Hotel-105788714158853/
Instagram: https://www.instagram.com/plazaosaka/